INTRODUCTION
Since its foundation in the early 1980s, Schertler SA has launched a programme of passionate research that aims to achieve the highest levels of accuracy in the reproduction of acoustic stringed instrument sound. Led by bassist and founder Stephan Schertler, the research and development company initially began to focus on producing high quality tools and innovative technology to replace the technology and imperfections of piezo pickups. Over the years, Schertler's original approach to harnessing acoustic vibrations has resulted in a number of fundamental innovations, some of which have gained international patents, such as the STAT Series of contact microphones.
In 2003, Schertler launched an original series of compact amplifiers – the Classic Series. Since then, the 3-channel UNICO and 2-channel DAVID have provided musicians with high quality portable solutions for stringed instrument amplification. Suited to virtually any live performance situation, these amplifiers have received unanimous feedback from users around the world, helping to build the reputation that Schertler has gained in the field of acoustic amplification.
The latest note from THE DIARY…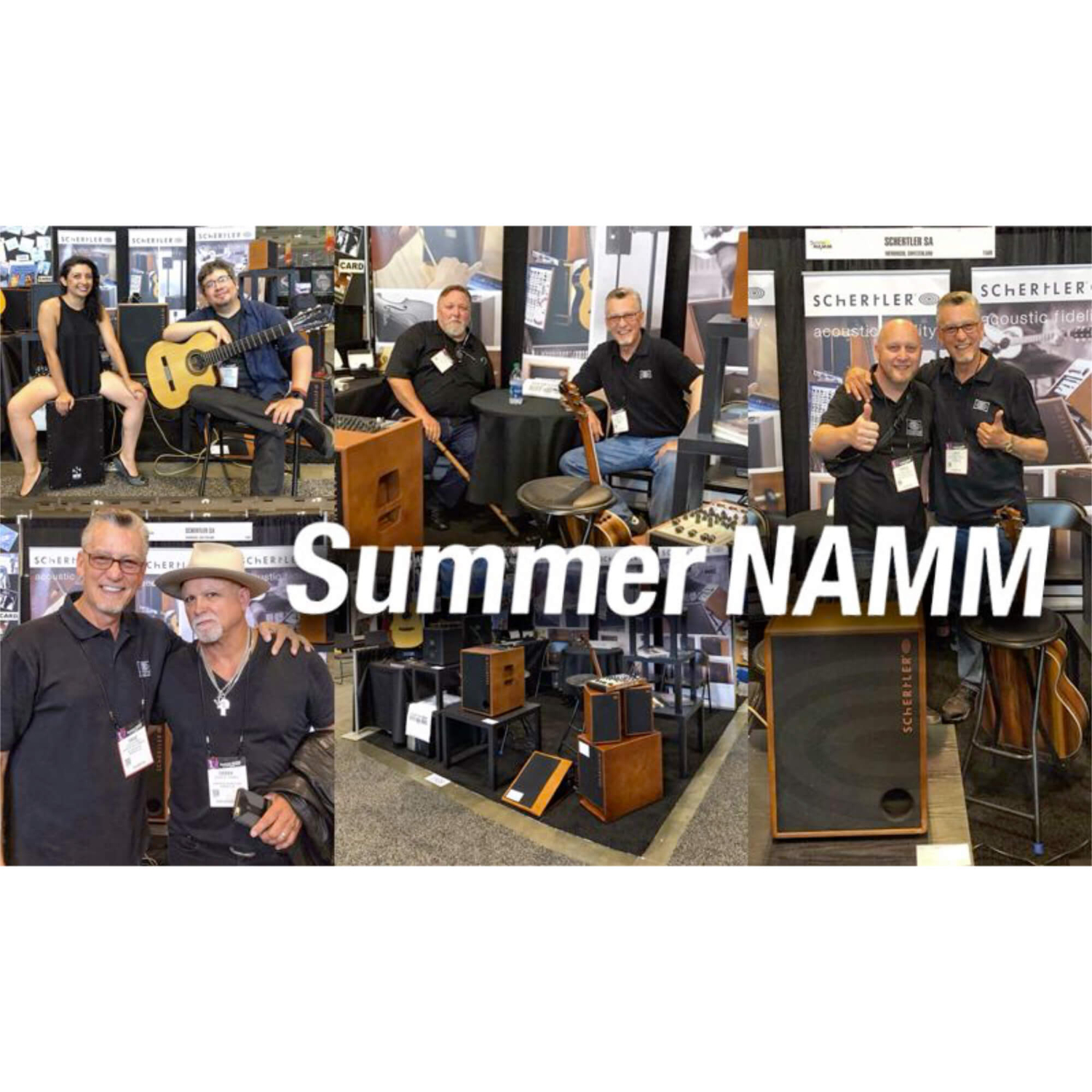 One for the books! Schertler's first Summer NAMM
Schertler attended the summer NAMM show in Nashville last month for the first time ever. The event proved an overwhelming success for our company.
"We signed up several new premier dealers, including The Acoustic Shoppe in Springfield, Missouri and Righteous Guitars in Roswell, Georgia, among others," says Dave Schmidt, Schertler's National Sales Manager. "Our new dealers are really excited to be carrying the Schertler line and and are already doing a fantastic job representing the Schertler brand to their customers.
Spending time in the mecca of music also gave us an opportunity to rub elbows with professional musicians like Jeff Douglas (guitar and dobro) of The Oakridge Boys. Jeff has been with "The Oaks" for 23 years now and knows quality when he hears it. We are expecting Jeff to be taking his Schertler JAM 200 on the road with him very soon".
Plans are already underway for Schertler to soon be attending other shows in the USA. Stay tuned for more details!