INTRODUCTION
Since its foundation in the early 1980s, Schertler SA has launched a programme of passionate research that aims to achieve the highest levels of accuracy in the reproduction of acoustic stringed instrument sound. Led by bassist and founder Stephan Schertler, the research and development company initially began to focus on producing high quality tools and innovative technology to replace the technology and imperfections of piezo pickups. Over the years, Schertler's original approach to harnessing acoustic vibrations has resulted in a number of fundamental innovations, some of which have gained international patents, such as the STAT Series of contact microphones.
In 2003, Schertler launched an original series of compact amplifiers – the Classic Series. Since then, the 3-channel UNICO and 2-channel DAVID have provided musicians with high quality portable solutions for stringed instrument amplification. Suited to virtually any live performance situation, these amplifiers have received unanimous feedback from users around the world, helping to build the reputation that Schertler has gained in the field of acoustic amplification.
The latest note from THE DIARY…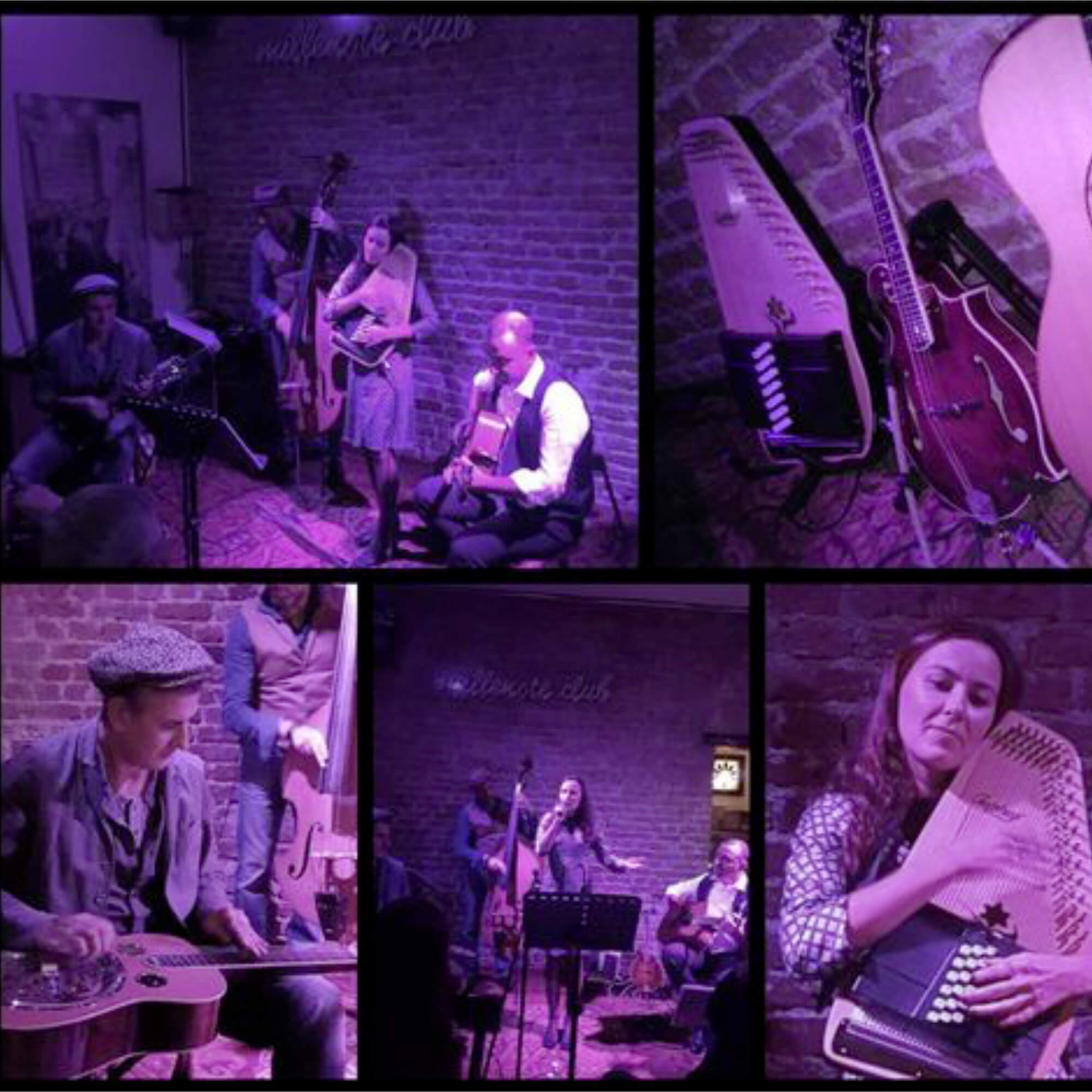 Blue4Green pick up more Schertler
The Blue4Green quartet recently added to their Schertler pickup collection. A performance in the Millenote Club, Arsizio, provided the group's first opportunity to test newly acquired pickups for autoharp and guitar.
Blue4Green is described as a "new quarter experience". The group performs its own compositions and "acoustic music with no borders, from Bluegrass to Irish, to Swing", Its members are Schertler Ambassadors ANITA CAMARELLA – Vocal, Autoharp and DAVIDE FACCHINI – Guitar, Ukulele, Mandolin, along with PAOLO ERCOLI – Dobro, Mandolin, Vocal and RINO GARZIA – Double Bass.
Anita and Davide told us:
"The Millenote Club is an elegant venue and it was full of people waiting for the concert. A perfect moment and place to test Schertler Acoustics pickups for guitar and autoharp on stage for the first time.
Davide Facchini performed with the DYN-G-P48 on his guitar. Usually he likes to use a mic in front of the guitar but the DYN was perfect. No music stands for mics on stage, more room and no feedback problems. The sound was natural, dynamic, clear and warm.
The DYN-G-P48 reflects the acoustic sound of guitar very well with both flatpicking and fingerpicking styles. It's easy to apply to the instrument and to find the right position on the top of guitar. Another good thing is that you can use it on different guitars any time you need!
Anita has the RESO-COIL-XM-BU with XLR connector on her autoharp. Finally she can play with the right sound and right volume, while singing effortlessly at the same time. The autoharp has a particular sound and it works great on slow and sweet songs. Last night we also used it on some fast bluegrass tunes. The sound in the mix was very balanced and it gave a new colour to the band.
Paolo Ercoli has used Schertler pickups on his dobro and mandolin for some years: a BASIK RESO on his three dobros and a RESO-COIL-JF on mandolin. They have always worked great.
We are really happy about this new collaboration with Schertler and can't wait to play the next gig!"
www.anitadavideduo.com
www.youtube.com/anitadavideduo
https://soundcloud.com/anitadavideduo