Une introduction du concepteur électronique
Je suis fier que vous avez acheté le mixer Arthur Format48. Ce qui peut sembler être à première vue une console de mixage modulaire standard, est en fait un nouveau produit audio révolutionnaire qui offre beaucoup plus. Avec Arthur, vous pouvez construire votre propre mixer avec un degré de flexibilité pas encore vu sur le marché.
Il y a 8 unités différentes qui peuvent être combinés dans l'ordre que vous voulez très rapidement. Au cœur de ce mixer il y a une conception électronique tout aussi révolutionnaire. Jamais auparavant le marché a vu un mélangeur avec un circuit électronique qui est totalement libre de rétroaction négative (ONF) de l'entrée à la sortie. Tous les filtres et amplificateurs de sommation (dont de nombreux concepteurs électroniques considèrent impensable sans ONF) sont exempts de boucles de retour dans cette conception simple. Le résultat est une réponse ultra-rapide et une attaque naturelle, chose pas réalisable avec des circuits ONF. Tous les circuits sont simplement construits en utilisant discret composants électroniques pur DC-amplis uniques, de classe A et à haute tension (avec aucun condensateur dans le chemin du signal), en offrant 30dB headroom et à bruit très bas, ainsi que une stabilité chaleur et transparence inégalée.
Même si le Arthur Format48 ne peut pas offrir toutes les fonctionnalités d'une grande console de studio (en effet, il n'a pas été conçu pour ce cas), sa sonorité surpasse néanmoins la plupart des tables de mixage plus établis. Autrement dit, il sera difficile de trouver un mixer meilleur que Arthur. Que vous utilisiez votre mixer à titre amateur ou professionnel, pour l'enregistrement de studio ou applications live, des petits spectacles ou grands groupes, Arthur se révélera l'outil parfait grâce à son grand son et flexibilité inégalés.
De plus, si vous avez besoin une autre entrée micro ou une entrée instrument supplémentaire pour la guitare d'un ami, cela peut simplement être commandée et ajoutée à votre Arthur existant. Je vous souhaite succès et plaisir pendant votre enregistrement et votre performance à travers votre mixer modulaire Arthur Format 48.
Stephan Schertler Président et concepteur électronique du Groupe Schertler
Toujours pas de contenu disponible
×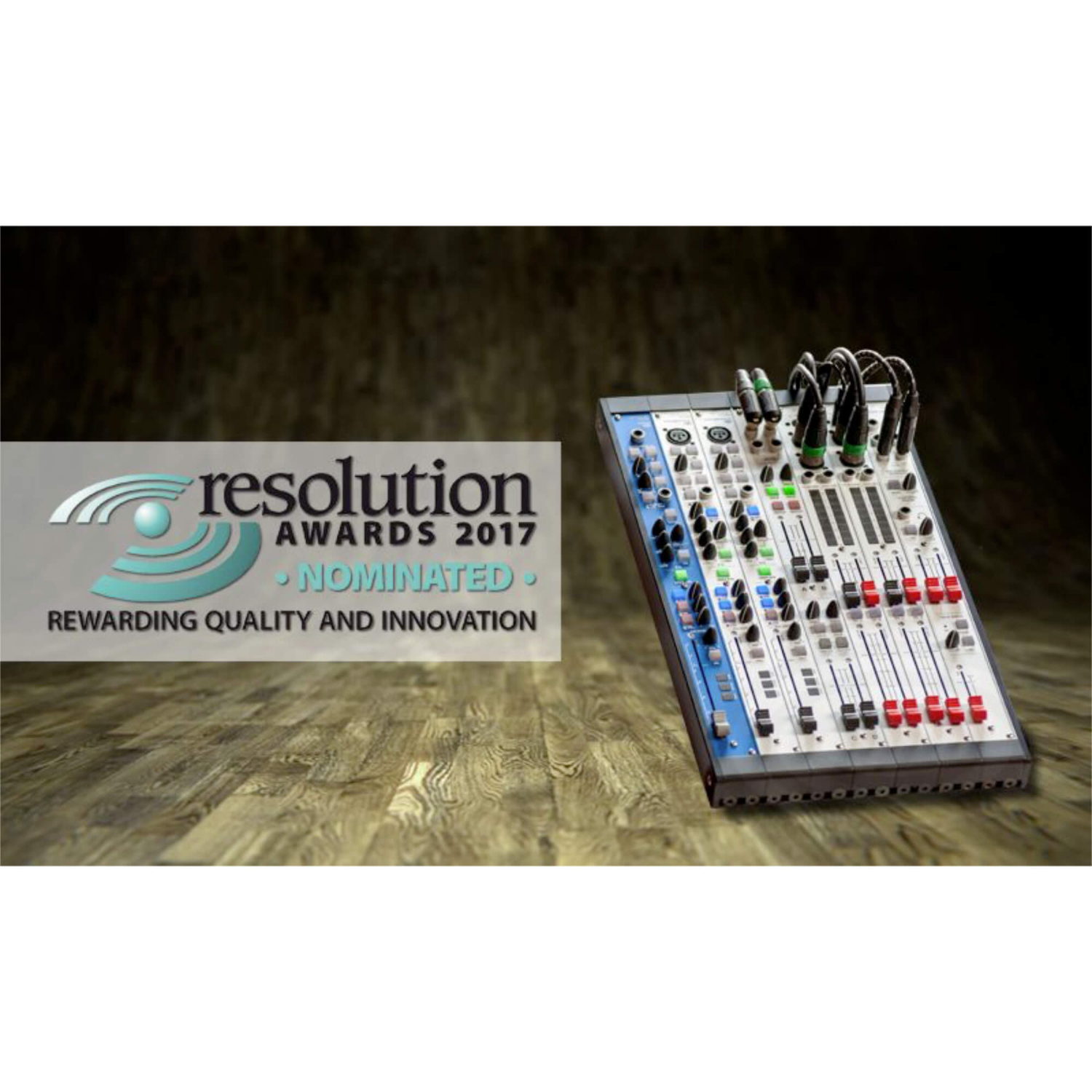 #Arthur_resolution_awards_nominated_24.07.2017
HELP MAKE ARTHUR an analogue mixer KING

2017 Resolution Awards Nomination for our ARTHUR modular mixer. Vote now!
In this special issue of The Diary, we're delighted to announce that ARTHUR has been nominated in the Analogue Mixer category of the 2017 Resolution Awards. If you are a registered reader of Resolution Magazine, and if you like Arthur, you can cast your vote for our modular mixer.
It's exactly 12 months since we announced the release of our new modular mixer, but the source of this particular "Arthurian legend" goes back over a decade. Stephan Schertler describes the journey from basic idea to award nominee.
"The whole Arthur concept is actually more than 10 years old, but somehow the company needed to mature with the development of other products such as the hi-voltage Class A preamps, to make us realise we were ready to create a product that would be unique in both its sound and mechanics. The original Arthur concept involved a modular mixer within a frame, but this idea changed with our desire to offer even greater modular flexibility. This modularity is not only advantageous for the user, but also for us. While we do not "need" to have many mixers in our product portfolio, Arthur's modular character potentially lets us have an infinite number … and it is the product itself that has led us down this particular path.
The actual development process started about two and a half years ago and was extremely challenging. One of the most difficult areas proved to be the mechanics: How could Arthur be made easy to assemble, yet robust enough not to break? The electronic design was also very demanding - lots of innovation which was not easy to squeeze into the space of an individual module. A further challenge was the fact we knew this product would be different from all the others in our current portfolio - in fact it would be completely different from anything we had ever made! In that respect, Arthur cannot be "categorized" e.g. for studio, live, DJ, producer etc, as it is a product that can be used by anybody and everybody.
We have shown Arthur at several major trade shows over the last couple of years and of course everyone has immediately noticed its modularity. But, everyone who has purchased the mixer and tried it comments on the sound, which is at the heart of the product. Because of its high-end sound, electronics and modularity, Arthur has already become a beloved work tool for engineers in various parts of the world. This has further raised our profile in the pro audio market, where we originally gained a foothold with our DYN Series pickups. So it's already confirmation that we have done the right thing.
We are extremely proud of the fact that, in a relatively short time since starting to develop the product, we have now been nominated in one of the industry's leading magazines. We are also very honoured to be able to list artists and engineers such as Chick Corea, Rob Griffin, Bernie Kirsch, Morris Hayes and Vittorio Cosma among our high-profile users: It is a huge compliment. Finally, we are also proud to be delivering a mixer that combines accessibility with affordability and flexibility, giving users a product that they can specify and build to suit their own working requirements."
How to vote for ARTHUR
Visit www.resolutionmag.com, and click on the "My Subscription" menu item. Enter the Subscription Type, your Reader Code and Post Code and log in. (Contact info@resolutionmag.com with your name and address if you don't have your Reader Code.) After a successful log-in, the My Subscription Details page is reached. Click on the "Resolution Awards 2017" menu item to access the voting form. You can only use this voting form once, so don't forget to choose all your winners in the various categories before submitting it. Voting closes at the end of September.
×