ÜBER UNS
Die Schertler-Marke, die Anfang der 80er Jahre von dem Bassisten Stephan Schertler gegründet wurde, hat sich weltweit einen Namen gemacht, um die höchste Genauigkeit bei der Wiedergabe von akustischem Instrumentengeräusch zu erreichen. Der innovative Ansatz des Unternehmens, akustische Vibrationen zu nutzen, hat zu einem sich ständig weiterentwickelten Portfolio an akustischen Verstärkungssystemen, professionellen Vorverstärkern und Kontaktmikrofonen wie der ursprünglichen DYN-Serie der 1990er Jahre geführt, die in jüngster Zeit neu konstruiert wurden, um die Flaggschiff-DYN P48-Serie zu bilden Werde eine "go to" -Lösung für professionelle Toningenieure. Mit der Gründung der Schertler Gruppe - Schertler SA, SR Technology und Velvet Strings - im Jahr 2015 konzentriert sich die Forschung und Entwicklung zunehmend auf professionelle Audio-Produkte (neben einem aktiven Musikinstrument-Produktportfolio). Zu den jüngsten Veröffentlichungen gehören der YELLOW MIC 500 Vorverstärker, das TOM Kompakte Profi klein PA beschallung und der neue ARTHUR Modularmischer. Mit Hauptsitz in Mendrisio, Schweiz, verfügt die Gruppe derzeit über F & E-Anlagen in der Schweiz und in Italien.
The latest note from THE DIARY…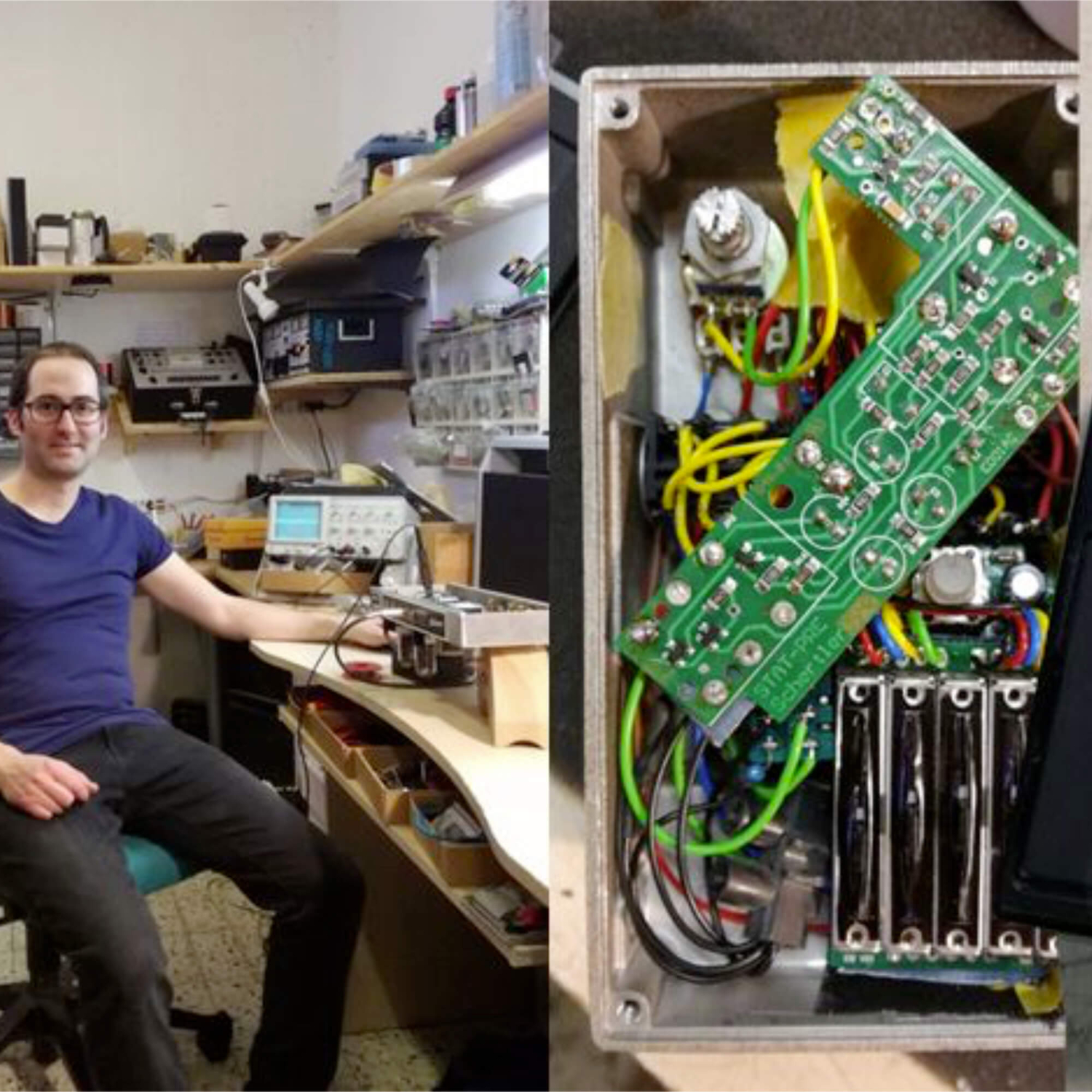 Alternative performance power from Hugo's customised STAT-B
Hugo Sierro is a technician based in Sion (Wallis, Switzerland). He repairs guitar and bass amps, produces handmade moving coil microphones and also teaches guitar. When professional double bass player Patrick Perrier wanted some alternative performance power capability from his Schertler STAT-B pickup, he turned to Hugo for inspiration in the form of a customised pedal. Patrick wanted a pedal that could give power supply to his STAT-B (while he plays double bass) and provide two different volumes: one for rhythm and one for solos. Rising to the challenge, Hugo created the pedal as specified. Two external buttons are used to set the two volumes (rhythm and solo). The actual preamp Gain is inside the pedal. The pedal can be used with a normal 9v battery or with an external power supply. For its housing, Hugo took a BOSS DS1 pedal box and painted it in black before finally adding the Schertler sticker. This is some customisation!
Don't try this at home! In general, we do not recommend modifying any Schertler product as this will void its warranty.
The above story is a rather exceptional example … Find out more about Hugo Sierro at http://www.hugosierro.ch/